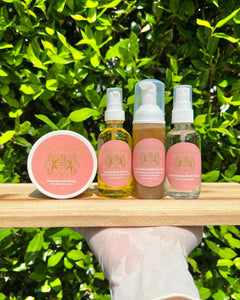 Incredible
My son was born with eczema. He is now 14 and the ones on his face started to get bigger. His face was full of small fine bumps especially on his cheeks and neck. I tried so many things and all they did was make his face irritated. I saw this on Instagram and decided why not. Let me tell you!!! Within a week all his bumps had flattened out and his face started to lighten up. He has been using it for over a month and his skin has smoothed out and the spots are disappearing. He is so happy and I'm elated that I found this. I didn't want him going to high school looking a mess and this helped him accomplish that. Lifelong customer 😍
Amazing!!!
The only skin care brand that i ever saw really start to clear my face!
Works after awhile
I was purging a lot the first two weeks, and then at week three I finally started to clear up. My skin was clear for a week until I hit my period and my face started breaking out a ton again :/ so, overall it helps for sure but I am still breaking out a lot right now unfortunately.
Satisfied:)
I love the foam wash and the mist toner! Since using percal naturals, it helps my acne from growing bigger when first noticed! Will be ordering the foam facial wash and rose water toner again:)
Wow
Honestly, my acne has severely improved. I tried different prescription medications from the dermatologist & I've gotten the best results from using this combo. My face isn't completely clean yet but I haven't gotten new breakouts. It's working to clear my hyperpigmentation! I will finally have a clear face soon.